the "mini b" is here!

Hi, I'm Cliff Unruh. Within a year following the introduction of the Hammond New B-3 in 2002 we began to see the need for a second alternative Mini B Organ, to the aging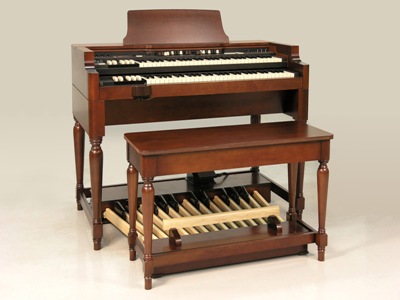 and, unfortunately, failing vintage Hammond Organs of yesteryear. While the New B-3 is the perfect replacement for its original namesake, budget concerns often color one's
options. Three years ago, we began having serious conversations with Hammond Suzuki USA about the need for an instrument that could compete in price with the very best of the vintage B-3s out there yet offer the dependability and factory warranty our customers demand. We asked for an instrument that had "the look and feel" of the New B-3 but with a price to fit modest budgets. What we got is the result of numerous conversations and conference calls and I'm happy (if not proud) to say that Hammond Central had a hand in this organ's development. Thank you, Dennis, Peter, Jay, and everyone at Hammond Suzuki for giving us such a fine product!

Product Overview: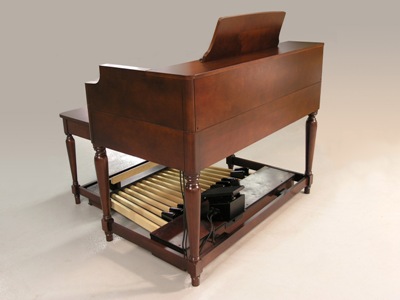 Based on the technology of the ever-popular Hammond XK-3C, the Hammond Mini B is a two-manual organ in a furniture-grade cabinet. The bench is essentially identical, except for wood and finish, to that of the B-3, as are the legs of the organ. Players will appreciate the fact that the Mini B's menu defaults to the transposition page (6 half-steps up or down) and that the entire menu can be locked out (a Hammond Central contribution to the design) to keep non-players with "heat seeking fingers" from inadvertently changing the instrument's parameters. Like the New B-3, the music rack is detachable and stores inside the bench and the heel rest is integral to the bass pedal board.
The Mini B is offered by Hammond Suzuki only through its full-line organ dealer network and comes fully assembled by the factory with a full three-year warranty. In addition, Hammond Suzuki has announced that the Mini B will only be sold together with a matching 971SE (Special Edition) Leslie with a second 971SE available as an option, of course.
MIDI:

The Mini B has one of the most powerful MIDI implementations to be found anywhere on a church organ with 6-channel MIDI keyboard control capability on the front panel.
Leslie® Ready :

In addition to the special edition Leslie included with the Mini B there is a built-in electronic Leslie simulation that is state of the art. This Leslie simulation is available both at the line outputs of the organ as well as at the headphone jack; a nice feature for private practice and recording without microphones.