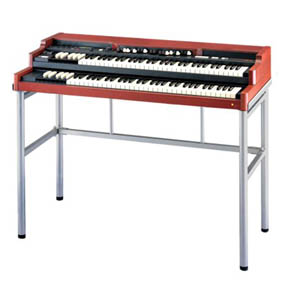 Like the XK-Traditional, The XK-Professional System allows our single manual organ models XK-3 or XK-3c to be converted to a double-manual console-style organ without any modifications to the XK-3 or XK-3c. It happens without tools or technical experience. The organ separates into

2 parts plus the stand, and the stand collapses for easy transport. A "B-3" style 25-note pedalboard and bench are available to match. When the XK Pro is assembled, it has the same "proportions" as a B-3.
MAP as above: $4,845.00 - With full pedals and matching bench: $7,735.00
Call us for competitive pricing on the entire system or individual components. Studio units available as well. Call Hammond Central today!
Call Now! 877-432-5700
Or Visit our On-Line Store
Special Note: We are the authority on the Hammond XK Pro and Traditional Systems and have the various independent component parts (Lower manual, XK-3C, stand, bench, bass pedals, etc.) available. If you want to learn more you should call and ask for Cliff.
the following Individual XK Pro Components are available at our on-line store:

XK-3C Single Manual Organ

XLK-C Lower Manual

XK Pro Stand

XK Pro/Traditional Style Bass Pedals

XK Pro Bench