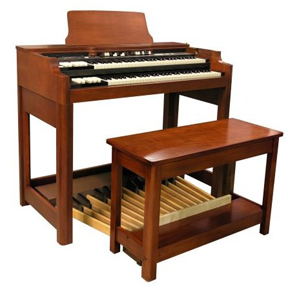 The XK- System is a revolutionary new keyboard concept. It is the only keyboard product on the market today in which a single-manual organ (XK-3/XK-3c) can be converted to a double-manual organ, complete with bass pedalboard, without any modifications. The XK-3/XK-3c can be quickly installed or removed from the lower manual cabinet assembly without any tools or technical experience. It is housed in a beautiful all wood "B-3" style cabinet. The Pedalboard and Matching bench complete the system.
Read More...
MAP: $8,564.00
Special Note: We are the authority on the Hammond XK Pro and Traditional Systems and have the various independent component parts (Lower manual, XK-3C, stand, bench, bass pedals, etc.) available. If you want to learn more you should call and ask for Cliff. You can find the individual component parts listed at our
On-Line Store
no later than May 1, 2012. Many components are already listed as we continue to build the site.
Hammond XK-3c single manual organ



Keyboard
61 + 12 (preset keys)
Drawbars
2 sets of 9 and 1 set of 2 drawbars
Sound Generator
Vase III sound generator creates 96 digital tone-wheels, Tone-wheel
leakage noise and motor-noise are adjustable wheel by wheel
Presets
Reverse color keys presets 11 preset x 12 Banks + Cancel
Polyphony
Full polyphony (unlimited)
Leslie
Next generation digital Leslie and scanner vibrato
Pre-amp
Real dual tube amp for pre amplification
Overdrive
Leslie overdrive
Reverb
10 Modes
Tone Controls
Bass, Mid range, Treble
Sustain
Pedal Drawbars
Wheel
Pitch Bend, Modulation
Panel Controls
Leslie Slow/fast, on/off, break/thru, effect send /return
Vibrato/Chorus Upper ON, Lower ON, V1, V2, V3, C1, C2, C3 with 6 position rotary knob, Percussion Second, Third,
Decay fast, Soft
Effect
Tube amp, Reverb on, Demo/Pedal Sustain
Display Switch
Page up/down, Parameter, Value up/down, Rotary encoder, Menu/exit, Play, Rec, Bank,
Volume control: Master Volume, Tone control, Tube overdrive
Display
20 character, 2-line back light LCD
TerminalAC input, line out L/R, Leslie 11 pin, MIDI in-1(Pedal)/MIDI in-2(Lower keyboard)/MIDI out, Headphone,
Foot switch / Leslie switch, Expression pedal (EXP-100AN or EXP-100F with Leslie switch)
Card Slot
Compact Flash
Power supply
100V/120V/220V/240V
Dimensions
47"(W) x 16"(D) x 5"(H)
Weight
41 lbs

XK-System Cabinet (with Lower manual + music rack)
Keyboard
61 + 12 (preset keys)
Panel Controls
Power on/off
Terminal
AC input, MIDI out, Headphone
Dimensions
48"(W), 25"(D), 8"(H) (without music rack)
Weight
67 lbs

XK-Stand
Dimensions
48"(W) x 25"(D) x 30"(H) (set up)
Weight
36 lbs
* C-3 style panels optional

XK-Pedal Board (25 note MIDI)
Keyboard
25 keys
Terminal
MIDI out, Expression pedal out
Dimensions
42" (W) x 37"(D) x 6"(H) (without expression pedal)
Weight
55 lbs

XK-Bench (collapsible)
Dimensions
36"(W) x 15"(D) x 23"(H) (assembled)
Weight
29 lbs
Call 877-432-5700 for special pricing on our two demonstration units